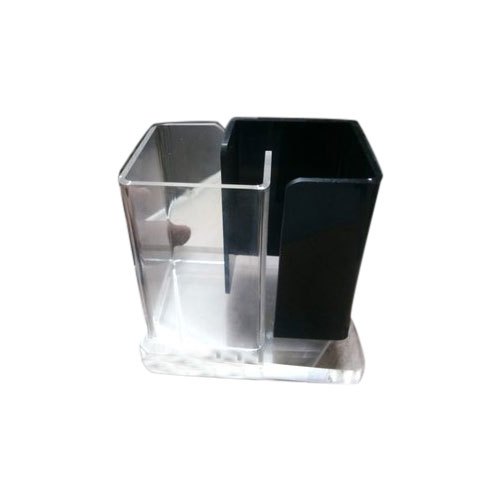 Desk organization has always been challenging for most of us who work from home or even at an office. If you fail to keep your desk organized, it becomes messier with each passing day. And then one fine day, you are left with no space to work over it. When we talk of desk organization, the acrylic pen stands play an important role. This is because one of the most scattered items that we all notice on our desks be it at the office or home are pens and pencils.
What with the Acrylic Pen Stands?
At times, our monotonous job routine gets on our nerves and makes us frustrated. We easily become bored and find ways of escaping our deadlines and work pressure. But what if someone told you? The easiest way to make yourself feel good at work is by investing in a couple of interesting stationery items like acrylic pen stands? They are beautifully designed and look nothing like the old and conventional pen holders, we grew up watching at our father's desk.
The Impressive Design of Acrylic Pen Stands is the Show Stealer
By replacing the boring set of pen stands with acrylic pen stands, you can give an edge to your desk. Your desk will instantly undergo a dramatic transformation with these pen holders. The interesting design of the pen stands is what grabs the attention. Moreover, they feature sufficient space for all your pens, pencils, rulers and brushes to be organized.
Top Best Ways How Acrylic Pen Stands Can Help with Desk Organization
They Add a Fun Quotient to Your Desk
A study table or office desk is simply incomplete without pen holders. If you are particular about sprucing up the look of your desk to make work hours interesting and fun, then acrylic pen holders are a must.
They Make Finding Things Easier
Without fancy pen holders like the acrylic ones, your desk shall look like a regular table in the office and or house. Since pens make up for an essential desk accessory, people need them all the time both in the house and at the office. By installing a pen stand, you can easily find out the pens and pencils that you were looking for, without rummaging through the drawers. You no longer have to spend hours searching the pen from amongst the mess, when you have a pen holder to hold all of them in place.
They Keep Your Desk Clutter-Free
Once you install pen stands on your desk, you wouldn't have to deal with the mess or clutter any longer. Lack of pen stands means, your pens and pencils shall be strewn and scattered all over your important documents. But with a pen stand, you can keep all your daily-use pens, brushes and pencils in one place. Also, pen stands can prevent you from losing your valuable pens.
They Can Revolutionize Your Office Space
You cannot afford to leave your art supplies wherever you want. Because desks tend to lose out space over time, because of the mess that you don't feel like cleaning and organizing. It sometimes becomes a frustrating job to find something which you need urgently. But with an acrylic pen stand, it's a promise that you can make your workspace better by offering a designated space for your small stationery goods, markers and pens.
They Possess Unmatched Space-Saving Qualities
Not just files, even your markers and pens deserve a designated space for themselves. Pen stands wouldn't only help you de-clutter but would also keep all your markers and pens organized. The unmatched space-saving qualities of a pen stand are preferred over drawers and pencil cases, given how you see the items.
They Are Perfect Items for Your Bulky Desk
If you have a large desk, then the acrylic pen stands are just for you. The pen stands have sufficient space and double compartments for pens and pencils. It is one of the best desktop organizers if you are various coloured pens and markers. The minimalistic approach to design is what makes the pen stand suitable for all desk styles and themes.
Investing in an acrylic pen stand have numerous benefits. Apart from providing you with space, it also extends the life cycle of your favourite pens and pencils. Without pen stands, your table will end up getting piled with supplies. A lot of your time shall be gone in searching for pens and markers if you are on a time-constrained assignment. To choose and buy pen stands in bulk to give them away as corporate gifts to your employees, you can always reach out to a reliable acrylic pen stands manufacturer.